March 23, 2017, the three-day 2017 China Content Broadcasting Network(referred to as CCBN 2017)opened in Beijing International Exhibition Center. As the Asia-Pacific region's largest Radio and television technology equipment exhibition, The exhibition of "fusion of horizons, intellectually enjoy the future" as its theme, Aimed at speeding up the convergence of traditional roadcasting media and new media, digital and accelerate the intelligent integration of radio and television networks, providing people with more quality and efficient services.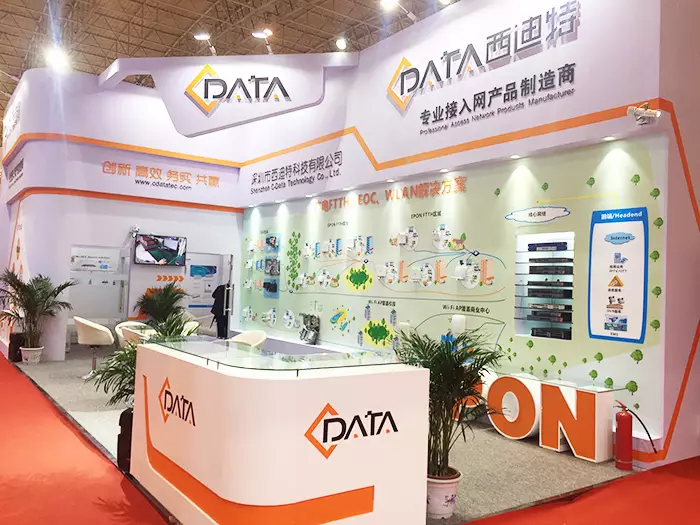 In the event, C-Data as a radio and television triple play broadband access equipment manufacturer, successfully demonstrated radio and television FTTH, EOC, WLAN solutions, covering all the core programs, software and products under different network transformation schemes in the broadcasting industry to meet the different needs of the network transformation and construction.

At present, C-Data has GPON OLT & ONU, EPON OLT & ONU, EOC, HFC, WIFI AP and other complete network access product series, to meet the various needs of radio and television access network products; GPON and EPON ONU terminal products, completed development of CATV triple play series, with a strong network access products competitiveness.
In this exhibition, C-Data highlighted the GPON, EPON series OLT and ONU series products.

16PON GPON OLT


Card-inserted type 40PON 2U EPON OLT

Innovative and lightweight Mini ONU


New arrival 1GE CATV ONU
Variety of C-Data new OLT, ONU, EOC, HFC products, by the audience's attention and love.
As one of the few domestic high-tech enterprises that can provide a full range of network access products and services, C-Data will continue to R&D high speed and stable access network products in the future.