From October 8th to 10th, within the dynamic atmosphere of SCAT2023 in Mumbai, India, C-Data, a leading global ICT product and solution provider, made an indelible mark, garnering admiration and applause from attendees.
At the heart of innovation and professionalism, we showcased our cutting-edge solutions and newly developed products. Among our offerings were a diverse array of ONUs, a flexible EPON/GPON/XG(S)PON OLT series, and our advanced management platform, CMS (Cloud Management System).
Revolutionizing Connectivity
C-Data's Flexible OLT series took the spotlight. With seamless scalability from 4 to 128 ports, our OLT series earned accolades for its adaptability. Whether in rural landscapes or urban server rooms, our OLTs facilitated swift deployment, enabling businesses to expand rapidly and cater to diverse needs. Notably, our ONU products, featuring CATV, POTS, Wi-Fi6, and PoE/PSE interfaces, were meticulously tailored to meet India's burgeoning broadband demands.
Effortless Network Management
Addressing the challenge of organizing intricate network nodes, C-Data CMS emerged as the hero. Integrated with EMS&TR-069 ACS, CMS simplified large-scale management, equipped with intelligent monitoring and alerts. Its streamlined configuration process allowed plug-and-play functionality, revolutionizing network oversight and ensuring seamless efficiency.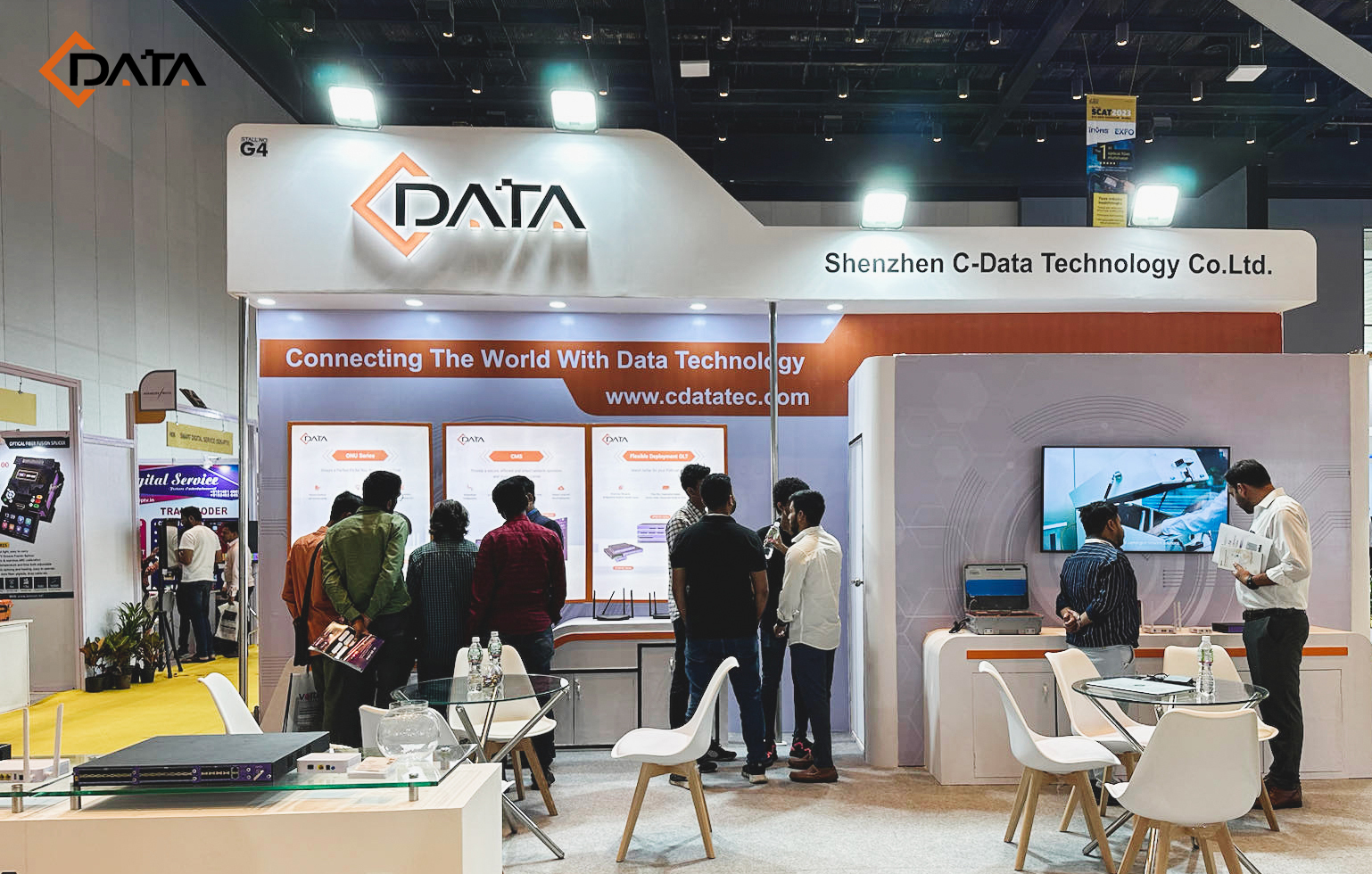 An Invitation to the Future
Our participation at SCAT2023 was more than a showcase; it was an invitation to the future. Through insightful conversations, expert knowledge sharing, and groundbreaking solutions, we painted a vivid picture of "Connecting the World with Data Technology."
We are thrilled to announce the upcoming C-Data Product Launch 2023 Autumn Seminar. We extend a warm welcome to all our readers and industry enthusiasts to join us for this event. This seminar promises to be an informative and engaging experience where we'll unveil our latest products and solutions. As a token of our appreciation for your participation, we will also be hosting a lucky draw with exciting prizes awaiting our lucky attendees. Stay tuned for more details and be sure to register for the seminar. It's an opportunity you won't want to miss, and it perfectly complements our presence at SCAT2023. We look forward to seeing you there.
https://forms.gle/8Gk2C7xpfcF1r2UT9