The 24th China International Optoelectronic Exposition(CIOE2023) is scheduled to take place from September 6th to 8th, 2023, at the Shenzhen World Exhibition and Convention Center. We cordially invite you to visit C-Data at BOOTH.10B55 in Hall 10. Prepare to immerse yourself in a world of innovation, where you can gain exclusive insights into our cutting-edge products like OLT, ONU, DWDM, switches, POL Solution and the AI-BOX Solution.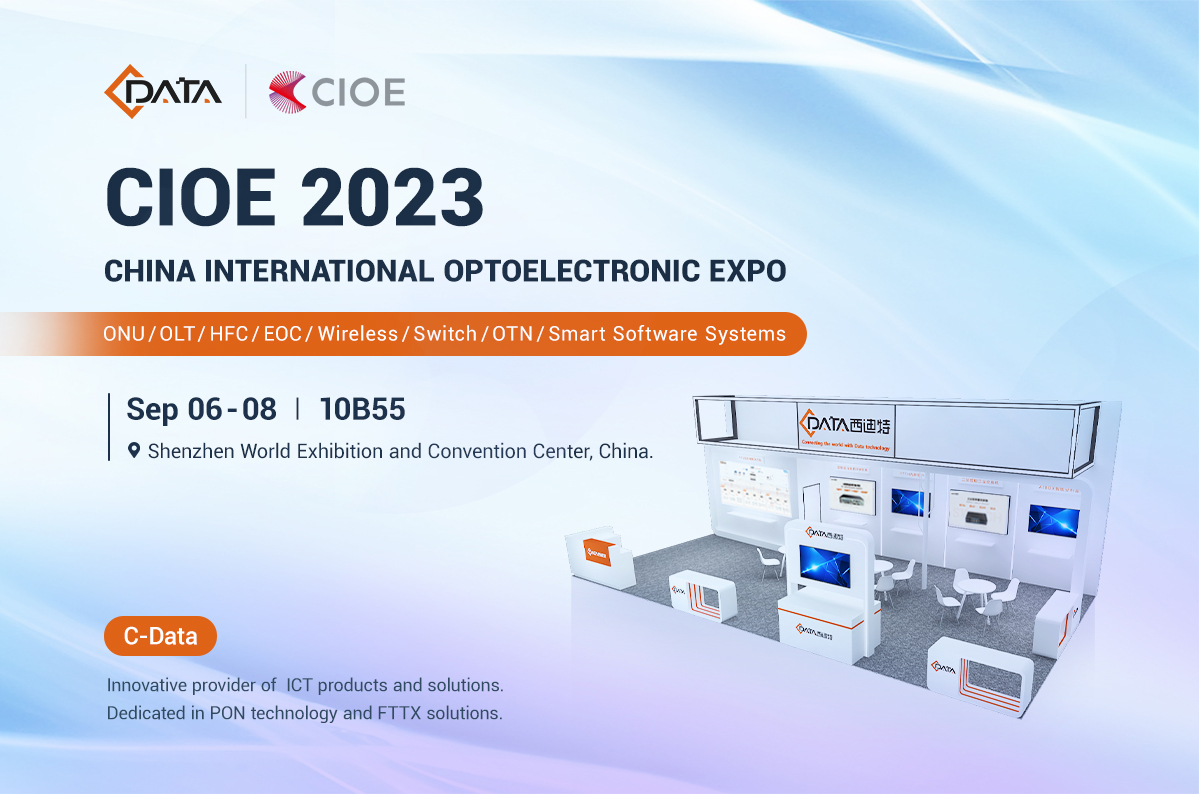 lC-Data POL Solution
C-Data's POL Solution empowers the transformation of campus networks. It integrates traditional services and emerging applications like VR/AR, cloud services, and intelligent management. Tailored solutions for various campus network applications, such as industrial, campus, security, government, transportation, and enterprises, is designed to provide users with intelligent, high-speed, low-latency campus network solutions.
C-Data's POL Solution offers a diverse range of stable, reliable, high-bandwidth, and energy-efficient products, including ONU, OLT, and switches. This comprehensive product line includes a high-density OLT with plug-in design and up to 32 PON ports within a compact 1RU space. Additionally, segmented ONU series catering to various scenarios ensure the specific needs of enterprises, governments, and operators are met. We also offer commercial, industrial, and POE switches.
These solutions don't just provide optimal campus network strategies but empower you with the capability to support future business needs and smooth upgrades.
lAI-BOX Intelligent Video Analysis Solution
C-Data's AI-BOX Solution serves as a guardian for urban and various campus security requirements. Its plug-and-play design seamlessly integrates with your existing security systems, empowering security operations with intelligence and preventing unnecessary device disposal and resource waste.
AI-BOX incorporates Deep Learning Object Tracker and advanced AI for scalable Rule Set, precision identification, advance alerts and proactive prevention. This ensures timely responses during crucial moments, enhancing efficiency, and substantially bolstering overall security.
Join C-Data at BOOTH.10B55
CIOE2023, a prominent and impactful comprehensive exhibition in the optoelectronic industry, is all set to be a focal point for hot products and advanced technologies throughout the communication industry chain, encompassing optical chips, optical devices, optical modules, optical fiber cables, optical communication system, wireless devices, data centers, and much more, with numerous well-known industry giants set to participate.
From September 6th to 8th, C-Data invites you to attend the CIOE2023 to share successful practices and explore innovative solutions with distinguished professionals in the global communication field. If you cannot attend in person, follow us on Facebook and YouTube for online live streaming sessions. In any case, C-Data looks forward to exploring the vibrant development of the future of ICT with you, as we work to "Connect the World with Data Technology!"