As we all know, a good industry exhibition can help us get in touch with excellent enterprises in the industry, understand advanced products and technologies, and find suitable products and partners. So, what are the main exhibitions in the communication industry from 2021 to 2022? For your convenience, C-Data have specially collected an exhibition schedule for you.
Logically speaking, participating in well-known exhibitions in the industry and exchanging industry experience with peers and customers is originally an attractive job that people look forward to.However, in the past two years, affected by the epidemic, many exhibitions could not be held as usual, or even postponed or cancelled. For example, GITEX 2020 in Dubai, originally scheduled in 2020, was postponed to October 2021, the exhibition sviaz2020 in Russia has not been held yet, and ANGA COM in Germany has been changed from offline to online.
The news that various exhibitions have been postponed or cancelled makes people depressed, but fortunately, there is CIOE, which has been held as usual for two consecutive sessions from last year to this year.
With the feeling of eagerness to discuss and communicate with you, C-Data cherishes this exhibition opportunity very much.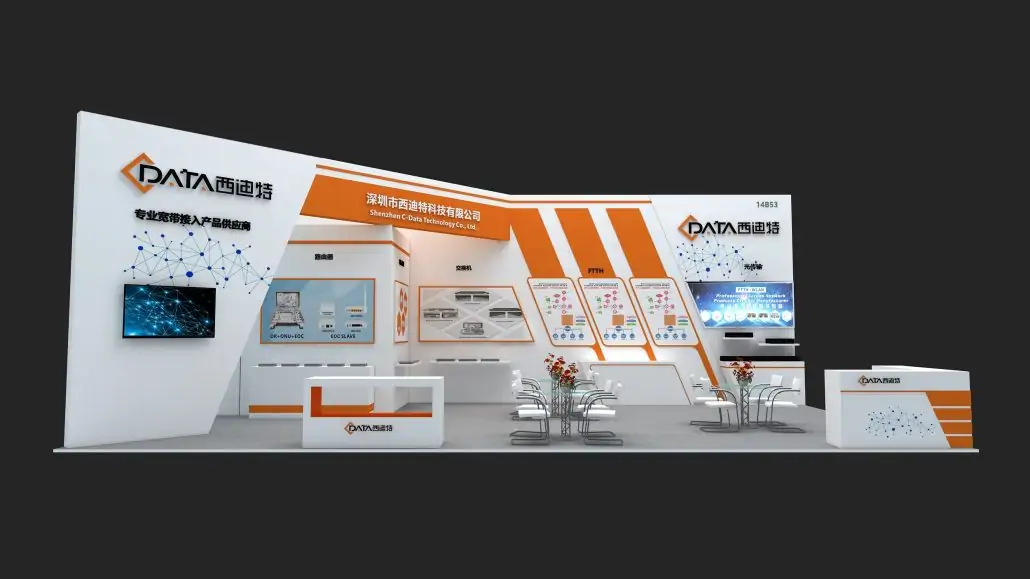 In 2021CIOE, C-Data's booth is in hall 4-4B53, and we have already finished the preparation of exhibition design. It is expected that C-Data have also brought new products such as switches, optical transmission and private cloud storage in addition to previous xPON(OLT,ONU) products, EOC,WiFi Routers, HFC(EYDFA)and other products. Each new product has its own characteristics.

Switches have not only many ports but also independent channels to isolate conflicts.Business and industrial switches can meet the needs of enterprises and individuals, as well as some special industries, such as transportation, power, security, industrial manufacturing and other different scenarios.
DWDM wave division transmission have the characteristics of single optical fiber bidirectional transmission, simultaneous transmission of signals of different wavelengths, multiple networking modes, and support multiple services.
T&T H2 private cloud storage is safe, reliable,and convenient. It is an essential data stewardship for our family.
In addition, there are many wonderful things to meet you in 2021CIOE. Considering the fact that some international customers and peers could not reach the exhibition site due to the epidemic, We'll follow up on the show live on social media like facebook, linkedin through pictures, videos and articles.
What surprises will 2021CIOE bring us?Let's wait!
For information about last year's exhibition, click on the video link below: