In the access network, Passive Optical Network(PON) is the best transmission medium to realize triple-play and solve the "last mile" of the information highway. EPON and GPON are the most prevailing and mature access network standard in the PON network. EPON, a kind of mainstream broadband access technology based on IEEE 802.3ah standard, realizes the integrated service access of data, voice, and video through a single optical access system, being economical. As for GPON (Gigabit Passive Optical Network), it is the latest generation of broadband access technology based on ITU -TG.984.x standard. GPON is regarded by most operators as the ideal technology to realize broadband and integrated transformation of access network services because of its high bandwidth, high efficiency, extensive coverage, rich user interface, and so on. Therefore, communications equipment manufacturers have developed products that compatible with both EPON and GPON standards, commonly known as xPON.
1. Overview of xPON ONU
It is well-known that the passive optical network system is composed of an optical line terminal (OLT), optical distribution network (ODN), and optical network unit (ONU). xPON ONU is an optical network unit that supports both EPON IEEE 802.3ah standard and GPON ITU-TG.984.x standard, which means it can be used in both EPON and GPON networks. xPON ONU also can automatically switch in EPON or GPON mode.
2. xPON ONU Technology
2.1 Software
At first, two concepts of PLOAM and MPCP are brought to you.
In GPON, the physical layer OAM (PLOAM) channel has to be built by ONU and OLT before ONU wants to register with OLT (it calls the registration phase). PLOAM channel is a formatted information system carried by GTC lock in the designated location. It is used to transmit other PMD (Physical Media Dependent) and GTC (GPON Transmission Convergence) management information that is not sent by the embedded OAM channel. OMCI channel is used to manage the business definition of the GTC upper layer. GTC must provide a transport interface for OMCI. An optional channel, including defining the transport protocol ID (Port-ID), is offered by GTC according to the configuration of the device.
In EPON, ONU and OLT have to establish an MPCP control mechanism if ONU wants to register with OLT (it calls the registration stage). MPCP (Multi-Point Control Protocol) is the protocol of the EPON MAC control sublayer. MPCP defines the control mechanism between OLT and ONU to coordinate the effective sending and receiving of data.
Building PLOAM channel in GPON and MPCP control mechanism in EPON are both called the registration stage.
xPON ONU will be embedded in a special process to detect the optical signal of the OLT downlink to identify whether it is GPON or EPON mode because EPON and GPON have different interaction protocol messages and fields, which give aid to ONU's identification in the registration phase. If the result of identification is inconsistent with the PON mode of ONU, ONU will restart automatically to switch to the PON mode consistent with the current network.
2.2 Hardware
Usually, ONU optical module is used in ONU equipment composed of burst mode laser driver, receiving limiting amplifier, BOSA, MCU, APD boost circuit, etc.
There are two kinds of lasers in the ONU module: FP and DFB.
As the receiver receives the signal continuously, it needs a special limiting amplifier to amplify the electrical signal converted from PD. APD-TIA and PIN-TIA are two kinds of receivers.
According to the performance requirements, 1310nm DFB LD and InGaAs Super-TIA receiver with 1490nm WDM filter is required for GPON ONU optical module. As for EPON ONU optical module, 1310nm FP LD and InGaAs PIN-TIA receiver with 1490nm WDM filter is required.
Burst transmitters and receivers are usually used in optical devices, but it is a key technical difficulty for all TDM-PON. There are great differences in timing requirements when optical devices deal with burst transmitters and receivers because of the different transmission protocols of EPON and GPON. In fact, the uplink burst timing requirements of GPON are much more stringent than EPON's. As shown in Figure 1, the setting time required by the burst reception threshold of GPON is within 96 bytes, i.e., 77ns, while that of EPON is 400ns. Moreover, GPON also treats the on-off time of the laser in the burst emission control of ONU more strictly.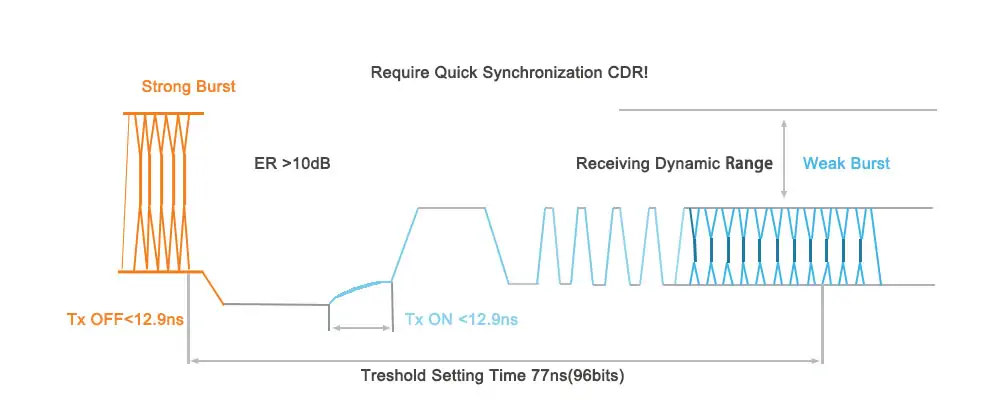 To sum up, GPON optical devices are generally used in xPON ONU. As the saying goes, "technology is downward compatible", GPON optical devices are used to be compatible with the network environment of EPON.
3. Applications and Advantages of xPON ONU
3.1 Compatible with the existing network
xPON ONU can work on EPON or GPON mode. It can automatically identify whether the OLT is EPON type or GPON type and switch the operation mode . Therefore, whether the current network of Operators or ISPs is EPON or GPON, xPON ONU can run in it.
3.2 Upgrade deployment faster
Because the implementation of the EPON network is earlier than the GPON network, the EPON network accounts for a large proportion of the current network. However, the EPON network will be gradually replaced by the GPON network due to the advantage of bandwidth.
xPON ONU plays an important role in the transition from the EPON network to the GPON network. When operators decide to upgrade to GPON, a more smooth network transition, and huge upgrade cost saving can be achieved by only replacing the EPON OLT to GPON in head-end without any operations for the user end.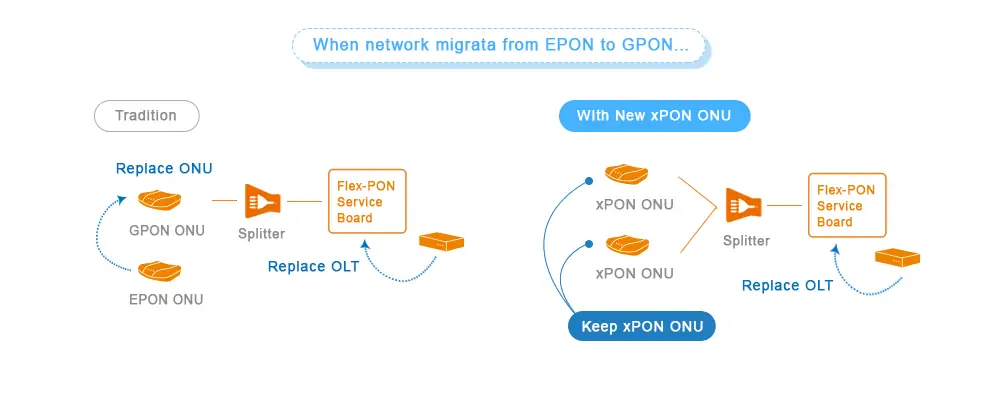 3.3 Investment protection
The original EPON ONU and EPON OLT equipment must be eliminated in the process of system upgrading from EPON to GPON. But xPON ONU can avoid the elimination as it is compatible with both EPON and GPON standard, which greatly protects the investment of users.
3.4 conducive to network operation and maintenance management
xPON ONU makes EPON and GPON transparent and provides a unified interface for the upper management after the differences between EPON and GPON are blocked. Thus, no matter the terminal is EPON or GPON, the terminal configuration is the same. In this case, the network administrator only needs to focus on business management, which greatly improves the operation and maintenance management efficiency.
4. Types of C-Data xPON ONU
Number
ONU Configuration
ONU Model
PON Mode Supporting
1
EPON&GPON&XPON 1GE/1GE+CATV
FD511G&FD701G series
1. Support automatic recognition of EPON / GPON mode

2. Support manual switching of EPON/GPON mode

2
EPON&GPON&XPON 1GE+wifi/1GE+1FE+wifi/

4GE+2pots+wifi(AC)

FD511GW&FD512XW&FD702XW&FD604GW&FD804GW series
1. Support automatic recognition of EPON / GPON mode

2. Support manual switching of EPON/GPON mode

3
EPON&GPON&XPON

1GE+3FE/1GE+3FE+CATV/4GE

FD50X&FD704X&FD504G series
1. Support automatic recognition of EPON / GPON mode

2. Support manual switching of EPON/GPON mode
5. Prospect and Summary
xPON ONU has overwhelming advantages in compatibility, anti-interference, bandwidth characteristics, access distance, maintenance management, and so on. It is prevailing in the market and got highly concerned by ISP regarding its application. xPON ONU may become the mainstream in the next few years from the current situation given that the EPON network has been basically solidified, and only with the support of xPON ONU can the transition from EPON to GPON network be successful.
As a professional FTTH broadband access product supplier, Shenzhen C-Data Technology Co., Ltd. will keep abreast of the market trends and demand to produce better products for the Internet industry.