FTTH (Fiber to the Home) can provide higher bandwidth for users to meet different demands of voice, video, and data with fiber as the transmission medium, which will gradually replace copper accessing technology. PON (Passive Optical Network) is recognized as the best FTTH network accessing technology.
PON (Passive Optical Network) is one kind of network system of P2MP (Point to Multiple Point), which consists of OLT (Optical Link Terminal), ODN (Optical Distribution Network), and ONU (Optical Network Unit). C-Data specializes in PON technology, and has a wide range of PON products that can provide users with end-to-end product solutions.
C-Data FTTH Solution
C-Data FTTH solution is a new generation of passive optical network product solution based on PON system network, which meets the relevant national and international standards of GPON and EPON, and meets the transmission requirements of high-speed Internet, voice and video services.
This solution not only can provide the last kilometer access with fiber for all kinds of network operators, but also can be applied to customer professional network for various industries like broadcast and television access network, video monitoring network, enterprise local area network. In addition, C-Data FTTH solution can be applied to customer private network of different industries such as radio and television, transportation, energy sources, electric power, finance, and government.

C-Data FTTH Products based on PON system network
OLT of the local side (Machine Room) is the core of the PON system. It provides high-speed uplink interfaces for information access, such as voice, data, and PON interfaces for the passive optical distribution network. OLT is also the control center of the PON system, by which the network management system can accomplish operations, management, and maintenance of the PON system.
ONU of the user side provides an interface for data, internet video, and VOIP. By applying Ethernet, GEM protocol, etc. to implement transparent transmission of user data in the PON system.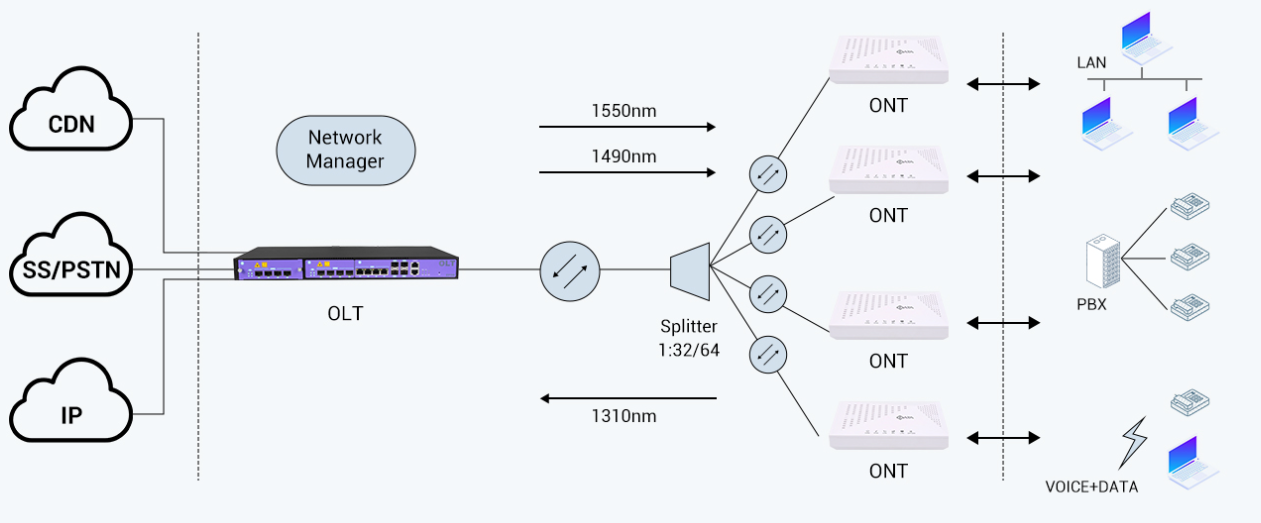 C-Data produces EPON and GPON products that meet various application scenarios, including box-shaped, plug-in, mini and outdoor OLT products, VoIP, Data , and CATV type ONU products, etc.
C-Data 1U-height box-shaped OLT can be installed in a 19-inch standard rack. It is compact, convenient, high-performance, and easy to operate. The OLT can be used and deployed to meet the volume and performance requirements of a compact computer room.
C-Data mini OLT is smaller and more convenient, meeting the installation requirements of corridors and equipment cabinets.
C-Data plug-in OLT can be deployed with different amounts of modules according to application requirements, which has a high level of integration and flexibility, and is easy to manage and configure. The plug-in OLT can meet access demand of medium or large-scale network with cost-effectiveness
The outdoor OLT adopts a cast aluminum IP65 waterproof casing, which is suitable for pole-holding, landing, and corridor application scenarios.
C-Data PON products are mainly for the two-way network construction of broadcast television network, the "last mile" fiber access provided by telecom operators, and are also suitable for high-definition video surveillance systems for government, public security, and large enterprises.